Essential Oils : Skin Care
100% Pure & ORGANIC
Diluted in a vegetable oil, essential oils have many virtues to make your skin more beautiful. Thanks to their properties, they take care of damaged and tired skin, especially sensitive, oily or problematic skin.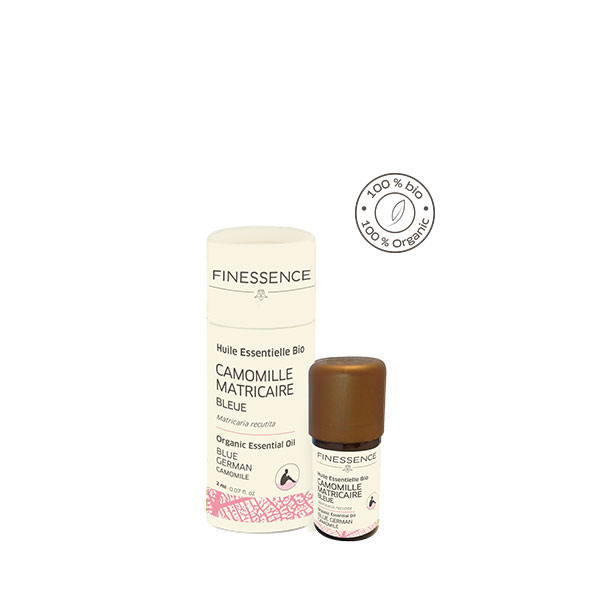 Botanical Family :
Asteraceae
Distilled parts :
Flowers
Organic Essential Oil
Blue German Chamomile Organic Essential Oil
Blue German Chamomile

Its is a small annual herbaceous plant, with a single stem and very thin leaves. We have carefully selected the purest extracts of Blue German Chamomile in Nepal. The essential oil of Chamomile Matricaria has a very strong, slightly sour smell.
> Everything you need to know about Essential Oils
22,00 €
We are interested in your opinion!
1 review = 1 10% discount code on your next order
Reviews on this product

Delivery Free
for orders over 49€ .

Secure payment
Credit card, Paypal.

Organic products
Properties
Promotes digestion
Cleansing and purifying air
Diluted in a cream or vegetable oil, it is protective and regenerating for the skin.
Uses advices
In infusion: For its soothing and digestive properties.
To do this, mix 3 to 4 drops in a litre of warm, non-boiling water. Indeed, water that is too hot tends to evaporate the essential oil too quickly and could also degrade the essential oil and its components, making it less effective. It is important to dilute the essential oil in honey or on a sugar cube which you will then add in warm water, in order to unify the mixture. Once your preparation is done, you can enjoy your tea for a moment of relaxation, at any time of the day.
Atmospheric diffusion: To cleanse the atmosphere of your home, but also to create a floral atmosphere and thus perfume a room.  
Depending on the diffusers and the size of the room, pour between 5 and 30 drops, and allow 30 minutes for a large room and about 15 minutes for a bedroom. In all cases, comply with the instructions for the device used.
In cosmetics:, it is protective and regenerating for the skin
The essential oil of Blue German Chamomile is used very diluted in a rich vegetable oil to perform a protective and regenerating massage of the skin. Pour 4 drops of essential oil for 1 teaspoon of vegetable oil of your choice and massage gently into the area concerned.
You can also refer to specific books or specialized sites to discover other ways to use your essential oil.
Precaution of use
Précautions :
Ne pas utiliser chez les enfants de moins de 7 ans.
Ne pas utiliser en cas de dépression morales, ni d'asthénie.
Ne pas utiliser chez les personnes allergiques aux huiles essentielles.
Consultez un médecin pour toute indication thérapeutique ou tout traitement par voie orale.
Ne jamais injecter d'huiles essentielles par voie intraveineuse ou intramusculaire et ne pas les associer avec des traitements médicamenteux sans avis medical par voie oral.
En cas de doutes ou d'interrogations, n'hésitez pas à demander conseil à votre maison.
Ne pas laisser les flacons d'huiles essentielles à la portée des enfants.
A conserver :
La conservation conseillée pour la consommation directe des huiles essentielles, en infusion notamment est de deux ans.
Pour toute autre utilisation, les huiles essentielles sont toujours aussi efficaces après cinq ou six ans.
Ingredients
Chamomila recutita (matricaria) flower oil, limonene*.
*Allergènes naturellement présents / Allergens naturally present
Dangereux. Respecter les précautions d'emploi. Dangerous. Comply with precautions for use.
Contient/Contains: limonene. Peut produire une réaction allergique / May produce an allergic reaction. Nocif pour les organismes aquatiques, entraîne des effets néfastes à long terme/Harmful to aquatic life with long lasting effects.