Essential Oils : Breathing
100% Pure & ORGANIC
Some essential oils improve the quality and freshness of the air and promote breathing. They are ideal for naturally cleaning and purifying the air in your home.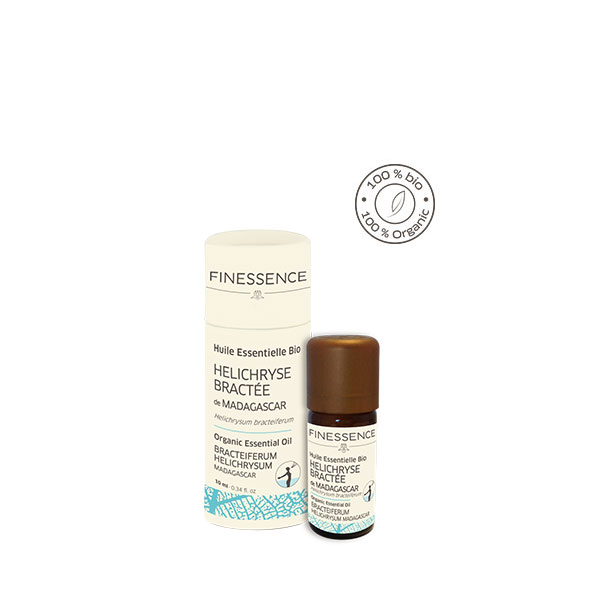 Botanical Family :
Asteraeae
Distilled parts :
Floral Buds
Organic Essential Oil
Bracteiferum Helichrysum from Madagascar Organic Essential Oil
Bracteiferum Helichrysum Madagascar

Bracteiferum Helichrysum is a variety of Helichrysum, also called Everlasting, specific to the Island of Madagascar. We have selected extracts of Bracteiferum carefully collected on this Island in order to offer a superior quality oil. It gives off a very pleasant fresh and sweet fragrance.
9,80 €
We are interested in your opinion!
1 review = 1 10% discount code on your next order
Reviews on this product

Delivery Free
for orders over 49€ .

Secure payment
Credit card, Paypal.

Organic products
Properties
Widely used to clear and purify the airways
Ideal for cleaning the atmosphere
Diluted in vegetable oil, it is particularly recommended for massage to purify and promote breathing.
Uses advices
Atmospheric diffusion: To clean and purify the atmosphere of your home, but also to promote breathing.
Depending on the diffusers and the size of the room, pour between 5 and 30 drops, and allow 30 minutes for a large room and about 15 minutes for a bedroom. In all cases, comply with the instructions for the device used.
In cosmetics: In cosmetics, it helps to promote breathing and increase the breath.
The essential oil of Helichryse Bractée is used very diluted in a rich vegetable oil to perform a respiratory massage. Pour 4 drops of essential oil for 1 tablespoon of vegetable oil of your choice and gently massage the solar plexus or the area concerned.
Precaution of use
Precautions :
Do not use on Children under 7 years of age.
Do not use in case of moral depression or asthenia.
Do not use on people allergic to essential oils.
Consult a physician for any therapeutic indication or oral treatment.
Never inject essential oils intravenously or intramuscularly and do not combine them with drug treatments without medical advice.
In case of doubts or questions, do not hesitate to ask your doctor for advice.
Do not leave essential oil bottles within the reach of children.
To preserve :
The recommended storage period for the direct consumption of essential oils, especially in infusion, is two years.
For any other use, essential oils are still as effective after five or six years.
Ingredients
Helicrysum braceiferum (helichrysum) flower oil, linalool*, limonene*, benzyl cinnamate.
*Allergènes naturellement présents / Allergens naturally present
Dangereux. Respecter les précautions d'emploi. Dangerous. Comply with precautions for use.
Contient/Contains: beta-pinene, alpha-pinene, linalool, limonene. Peut provoquer une allergie cutanée / May cause an allergic skin reaction. Liquide et vapeurs inflammables / Flammable liquid and vapour. Provoque une irritation cutanée / Causes skin irritation. Peut être mortel en cas d'ingestion et d'entrée dans les voies respiratoires / May be fatal if swallowed and enters airways. Toxique pour les organismes aquatiques, entraîne des effets néfastes à long terme/ Toxic to aquatic life with long lasting effects.